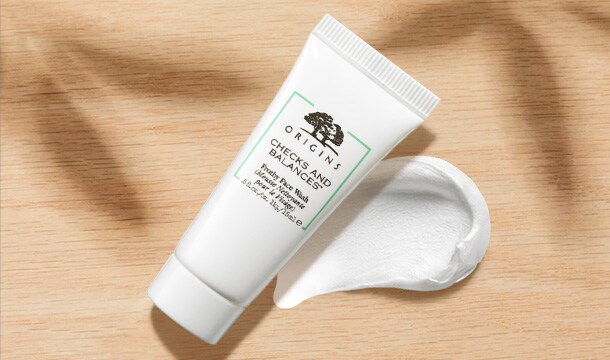 Get our #1 cleanser, Checks & Balances™ (0.5 fl oz), FREE when you spend $20
Code: CHECKS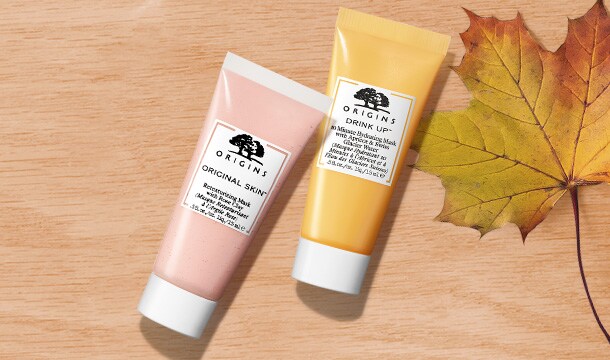 Get our skin-loving mask duo, Original Skin™ Mask (0.5 fl oz) & Drink Up™ Mask (0.5 fl oz), FREE when you spend $45
Code: MASKDUO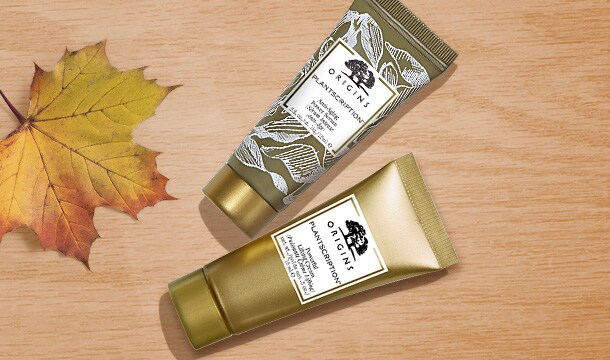 Get our youth-boosting duo, Plantscription™ Serum (0.5 fl oz) & Plantscription™ Cream (0.5 fl oz), FREE when you spend $65
($54 Value)
Code: AGELESS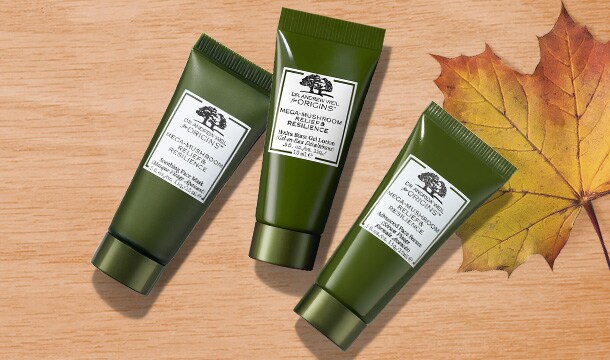 Get our skin-soothing trio, Mega-Mushroom Hydra Burst (0.5 fl oz), Mega-Mushroom Serum (0.5 fl oz), & Mega-Mushroom Face Mask (0.5 fl oz), FREE when you spend $65
Code: MUSHROOM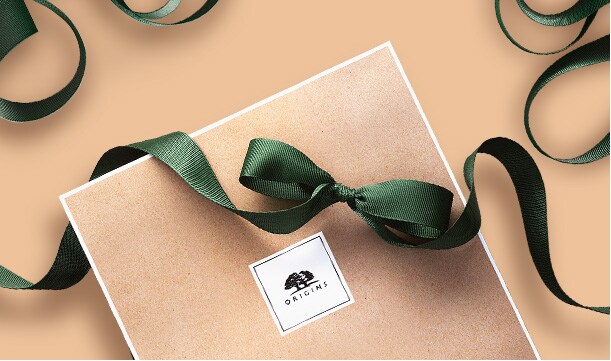 FREE STANDARD SHIPPING AND GIFT WRAPPING ON ANY ORDER!
Grab a friend and come in for a one-on-one shopping session with an Origins Guide. We'll chat skincare, customized regimens, whatever's on your mind.
Book Now
---

Offer begins on 9/25/2020 at 06:00 AM EST and ends on 10/27/2020 at 06:00 AM EST. Get a free 15ml Checks & Balances Cleanser with $20, code: CHECKS, free mask duo (Original Skin 15ml Mask & Drink Up 15ml Mask) with $45, code: MASKDUO, Plantscription Duo (Plantscription 15ml Serum & Plantscription 15ml Cream) with $65, code: AGELESS, or Mega-Mushroom trio (Mega-Mushroom Hydro Burst 15ml, Mega-Mushroom 15ml Serum & Mega-Mushroom 15ml Face Mask) with $65, code: MUSHROOM.* Offer available to US residents only at Origins.com. Offer not valid at Origins retail stores, Department Stores, Department Store websites, Ulta store locations, Ulta.com, Sephora store locations or Sephora.com. One per person and one offer code per order. While supplies last. Selection may vary. Sample packaging may differ from what's received. *Offer is not applicable to and applicable purchase amount does not include the purchase of gift cards; eGift cards; donations, sales tax; shipping and handling fees; items that are not in stock at the time of purchase; pending purchases or purchases made prior to or after the conclusion of the offer. All purchases are subject to bank authorization prior to processing. Only authorized purchases will be processed and shipped. We reserve the right to cancel any order due to unauthorized, altered, or ineligible use of offer and to modify or cancel this promotion due to system error or unforeseen problems. Allow up to 3 business days for processing and 1 day for overnight shipment. We reserve the right to substitute any free item offered with an item of equal or greater value. Free items are not eligible for returns or exchanges. Offer is subject to change without notice. Other restrictions may apply.